वो सुब्ह हमीं से आएगी
जब धरती करवट बदलेगी जब क़ैद से क़ैदी छूटेंगे
जब पाप घरौंदे फूटेंगे जब ज़ुल्म के बंधन टूटेंगे
उस सुब्ह को हम ही लाएँगे वो सुब्ह हमीं से आएगी
वो सुब्ह हमीं से आएगी
that morning will come from us
When the earth will turn, when the prisoners are released from prison
When the shackles of sin will burst, when the shackles of oppression are broken
We will bring that morning, that morning will come from us
that morning will come from us

Sahir Ludhianvi (8 March, 1921 – 25 October, 1980)
It had to happen someday. My old office (laptop) bag that I hung across my shoulders had to be thrown into the bin….pointless going to my roadside cobbler and watch him patiently stich and patch one more glaring hole….and no, he does not do it smilingly; he has had enough of this and now finds it hard to hide his frown! "There is some limit to how frugal one can be!" – is what he would have thought for one last time. I had grown up from the old school where I was taught "practice what you preach". If 'frugality' is one of the entrepreneurial traits I had been recommending to my students and mentees for just so long, I better ought to have put it to practice myself! However, there is a limit to everything I guess.
Anyway, now that the bag was destined to be got rid of, I pulled out from its every nook and corner whatever bits of paper and scrap my hands could get to. From the junk I found two sheets of paper quite crumpled and tattered in the folds. I carefully opened them to see what I had scribbled and it turned out to be some 'talking points' for two separate seminars one in 2001 (26th January to be precise and just in the midst of a devastating earthquake in Bhuj, Gujarat that day) and the other in late February, 2002. Both strangely and coincidentally, in moments of somberness and wide gloomy sentiments. In one of them I was the keynote speaker, and in the other, I was chairing a panel.
Here are the taking points (bullets that I used as pointers to be followed by narration of small incidents or stories):
Entrepreneurship is neither 'fashionable' nor something to pursue because there is no other option – as an alternative to not being able to get a job
Look at your immediate surroundings for inspirations and lessons learned – parents, siblings, family, friends, and institutions. Accept the fact that you may have to learn to live with ambiguity for a very long part of the journey
India is a land of entrepreneurial opportunities with plenty of problems to solve – several having huge societal impact
Always learn to start with a 'Why"?
The greatest joy is in being able to offer a value proposition to solve a large enough problem/pain-point (faced by many – not just yourself) where customers are 'able' and 'willing to pay' – markets either large or niche; but sustainable
Be fully aware of existing and emerging competition – if you want to pick a fight, pick a big one
If you go to set up a tech start-up, look for opportunities for generating intellectual property (IP) and a very sound go-to-market strategy
Giving opportunity for so many people who can get employed and therefore in turn, for them to have access to roti-kapda-makaan (food-clothing-shelter)
Create wealth for the good of the society and not just for your own self
Assess your own self – capabilities, strengths and weaknesses, likes and dislikes, what gives you joy…..identify your 'sweet spot'. Google: Dream big, stay focused – they did not have a zillion algorithms to start with!
Genuine passion, willingness to stay in it for long – it is not a 100 meter dash-sprint; it is a marathon race, later it will be a relay race where you pass on the baton to the next generation
Evaluate your matching capabilities to offer a solution/value proposition. See what you lack personally and work towards building a supplementary/complementary founding team
Teams last and succeed only on the principle of 'mutual trust and respect'
Delegate – but keep track of the most important things. Also, don't lose the ability to be 'hands-on'
Define your talent strategy thoughtfully
Learn to differentiate between 'good costs' and 'bad costs'
Don't ignore process – set them as soon as possible – but also don't become 'slave' to any process; it has to evolve with changing times and circumstances. People should be driving processes and not the other way round
Avoid activity traps
Cut the crap and jargon!
Bear in mind that funding may not come easily and early – create the ability to boot-strap followed by early stage funding
Dealing with failure – there is a lot to be gained – employer values
Dealing with success – being rooted – don't pursue just money
Sustained passion and desire – OPTIMISM. You are part of less than 1% of the population that has the power to change the future of the world and shape it
Conduct ethically at all times
As a Founder, you are the 'glue-stick' – it is your responsibility to attract and retain the best talent for your enterprise
There is much in sacrificing the present for securing the future
Don't try to create results – just follow a simple plan: sense of mission, action and loyalty with your heart in the right place – and results will come on their own
संसार के सारे मेहनत-कश खेतों से मिलों से निकलेंगे
बेघर बेदर बेबस इंसां तारीक बिलों से निकलेंगे
दुनिया अम्न और ख़़ुशहाली के फूलों से सजाई जाएगी
वो सुब्ह हमीं से आएगी
All the labor of the world will come out of the mills from the fields
Homeless people will come out of the helpless bills
The world will be decorated with flowers of peace and happiness
that morning will come from us
Note: The views expressed in this article of those of the author in his personal capacity. It does not reflect those of the institutions and/or organizations that he is associated with in any capacity.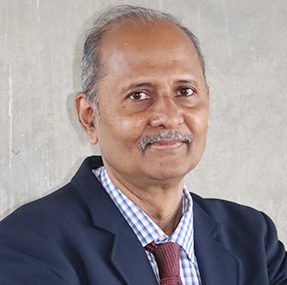 K Thyagrajan
Founding Team Member and Mentopreneur & Visiting Faculty, iCreate