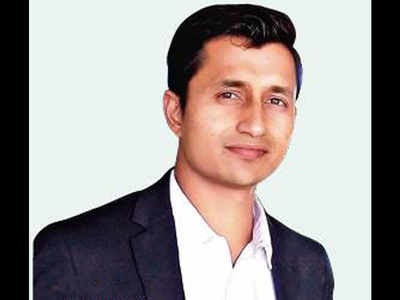 Resource shortage is one of the key highlights of the second wave of Covid-19 infections, particularly that of oxygen. While the administration, frontline workers, and other stakeholders did their bit in trying to address the supply shortage, startups in Gujarat came up with innovations that could go a long way in optimizing oxygen usage. Ahmedabad-based startup, Limelight IT Research Private Limited, came up with an IoT (Internet of Things) based solution to help monitor oxygen supply and optimize usage by identifying requirements.
"We recently worked with a manufacturing company to monitor their water usage. When the pandemic hit and oxygen shortage was massive in the first wave, we realized that similar technology could be deployed to monitor oxygen flow from the hospital's oxygen tank to the patient," said Tarun Purohit, co-founder, Limelight IT Research Private Limited, which is incubated at International Centre for Entrepreneurship and Technology (iCreate).
"The IoT-enabled solution is basically an industrial gateway that can easily plug into the oxygen supply lines of hospitals and allied healthcare institutions to monitor, perform audits, detect and send leakage alerts," Purohit further added.
The solution, ready to be deployed on a large scale, will help in monitoring the oxygen supply network in real-time from a single automated dashboard.
"We have successfully run the pilot and are now in talks with two privately held multispecialty hospitals in Ahmedabad to deploy the system. The information available from our IOT-based solution will also help in predicting demand for oxygen and also help optimize supply channel," said Purohit.
The startup, founded in 2018, has been working with the manufacturing sector to provide companies with IoT-based solutions to help optimize their processes making the output more efficient. It has worked with clients in the automobile, metal processing, and textile sectors including with companies such as Tata Motors and JBM.
With an increase in digital adoption among Small and Medium Enterprises (SMEs), the startup grew 2.5x of its revenue in 2020-21. The company aims to clock a revenue of Rs 1.5 crore by the end of 2021-22.
"By the end of next quarter, we plan to raise a sum of Rs 1 crore so that we can scale up and cater to more clients. We want to develop more products and strengthen our sales team with the fresh round of funds," said Purohit.
Anupam Jalote, CEO, iCreate, said, "Having an IoT backed platform to remotely monitor and audit oxygen supply will support India's existing infrastructure and help us utilize our resources to the maximum. These innovations that our startup has come up with are cost-effective and quickly deployable."
Read more